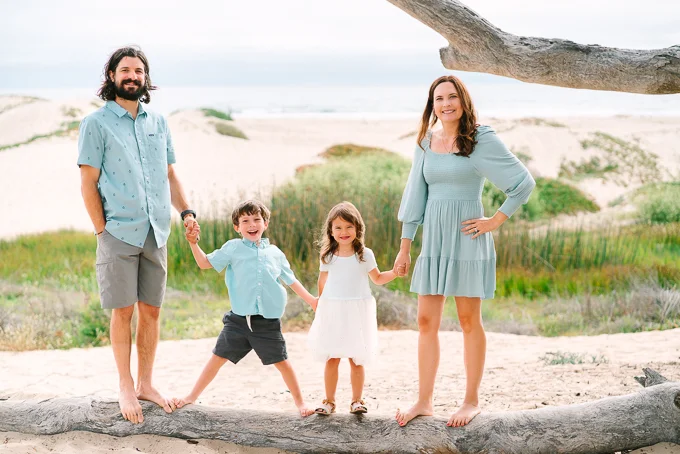 Let's capture precious memories for your family on California's beautiful central coast!
We love our photos. We thank you you so much. It was a pleasure working with you.
We had an amazing photo session with Jess on 11/11/23. Everything was so easy-from making our reservation and plans via text message, to meeting up at the Butterfly Grove, to having a very fun photo session with a wide variety of photos. Jess helped with outfit advice when I was unsure about a few choices, helped with location ideas, and she also kept us on track during our session so we could make it to the water before sunset. She was very friendly, professional, prompt, great with my kids, and easy to work with. We felt very comfortable with her and we absolutely love our photos.
I could not express how thankful I am for Jess. She understood exactly what my expectations were and what I wanted in my engagement photos. We wanted to have a sunset photoshoot and the sea crest was the best location for that.Thank you for being creative and willing to capture sweet intimate photos. And thanks for practically diving into the ocean for us.
Tamara Eriksson
2023-11-07
We booked Jess for our annual family photos and we are so very happy with the photos we received. Jess was very easy to communicate with and she was also very helpful with giving suggestions on how to style my family for the photos. During the photos my 2 children under 2 were less than cooperative and she was still able to capture amazing photos! I don't know how she did it and I'm so grateful for her! We would absolutely book her again in the future.
Carter Neblett
2023-11-07
Jess did an excellent job getting photos for our surprise engagement! She recommended a great location, helped coordinate the timing to work best with the sunset, and the photos are superb! All the correspondence was prompt and respectful, and the turnaround time on ~65 photos was less than a week. Could have asked for anything more. Highly recommend
Jess photographed my wedding on September 30th this year and we absolutely love our photos! Jess was a pleasure to work with. She reached out to us multiple times to check in, discuss our shot list, go over our wedding day time line so she wouldn't miss anything important to us and she also went out of her way to get to know our venue! My guests loved her and felt very comfortable asking her to take their pictures. I would highly recommend reaching out to Jess for any photography needs you may have!
Brooke Gardner
2023-10-18
Jess took the most beautiful photos of our 10 year anniversary + family vows on the bluff at Dolphin Bay Resort. We timed it right before sunset and I'm thrilled by how gorgeous the pics were. She did great helping to manage my 3 very young kids and grandparents. Safe to say she captured the magic and we will treasure our pics for a lifetime!!! Thanks Jess. See you next time
Tiffany Bodger
2023-10-10
Jess was wonderful to work with - She was a great communicator from scheduling to the actual photo shoot. She took us to a great location, put us at ease, and was really patient (especially working with two little cranky toddlers and our groups' varying degrees of comfort in being photographed). The photos turned out great and the editing turnaround was fast. Highly recommend.
Don't hesitate, Jessica is outstanding! From the easy communication, updates, session, and photos you will not be disappointed. We booked Jessica for our sons senior photos at the rocks near the Sea Crest hotel in Pismo during sunset. The photos turned out stunningly beautiful! Thank you Jessica for capturing all the love!
Jamie Benjamin
2023-09-18
From start to finish our experience with Jess was amazing. Scheduling was so easy and her communication, flexibility, and expertise throughout were so helpful and made the process so easy and seamless. We had Jess take senior pictures for our son and she graciously accommodated my request to include family pictures as well. She was very knowledgeable of the local area and had some amazing locations/backgrounds for my son in the AG village as well as some beautiful beach locations for our sunset family photos. The pictures are everything we had hoped for. We couldn't be happier. I highly recommend The Beach Photographer.
Family and Maternity Photography in California
Out of the area? The Beach Photographer offers destination photography all over California and worldwide.
Wow, Jessica! These pictures are fantastic! Thank you so much again, and I'll definitely be contacting and referring you to friends! I can't stop looking at them they are so good. Thank you again!
Lindsey Punches
Family Session
1. How to Book – Effortless & Fun Family Photography
My name is Jessica, owner of The Beach Photographer based in Pismo Beach, California. Nice to meet you! My approach to family photography is simple, effortless, and fast. The first step is easy – contact us. I'm happy to communicate over email, text, or a phone call, whatever works best for you!
After selecting a time, portrait package, and location that works best for your family, I will email you an all-in-one booking link. Check out the style guide to help you prepare for our session together.
2. What to Expect The Day of Our Session
When we meet, I'll introduce myself to your family, and we'll dive in! I'll take a few group photos and then introduce fun prompts and opportunities for candid and lifestyle photos. We'll take photos of all types of family groupings, kids only, parents only, and even change outfits as time allows to ensure we have plenty of awesome shots from our time together! I like to do a little walking around during our session to capture different backgrounds too.
3. After Our Session, Beautiful Photos to Print & Share
Within two weeks after our session, I'll email you an online gallery full of beautiful photos. No need to choose your favorites – you keep them all! Download both the full-size images to print and social media-size images to share online.
You will also have the option to purchase professional prints and wall art directly from your gallery or print them anywhere you'd like. If you have any other questions, reach out anytime! Ready to get started? Contact us to book.
Jess is an amazing photographer, and so easy to work with! She took gorgeous photos of my family and was great with my difficult to photograph toddler and infant. Communication was great, and she got the photos to us super quick. I'd definitely recommend her for your next family photos!

grace Norris
Jess is an amazing photographer! She's really sweet, super fun to work with and the photos were just phenomenal! Thanks for capturing this very special time for all of us.
Family Photography
Thank you so much! These are amazing. I am very happy with them. You got a lot of amazing shots in 30 min!!! Thanks again so much. I will for sure reach out in the future for grad pictures or family pictures again!

Monica McCarthy
Family Photography
Jess took some maternity photos of us during our babymoon and they were amazing! Jess was really easy to work and communicate with leading up to our photo shoot, which we're so thankful for as we were coming in from out of town and we're needing to keep an eye on the weather. Highly recommend Jess!
Priscilla Rodriguez
Maternity Photography
Portrait Packages
Once you select a package, it's a 50% retainer to book and the rest is due a week before your session. Add $50 for each additional person over 6 people.
Lifestyle Photo Session
3 hours, 3+ locations
Full Gallery of Digital Images
Style Guide
Outfit Changes
2-Week Turnaround
Most Popular Portrait Session
90 minutes, 2 locations
Full Gallery of Digital Images
Style Guide
Outfit Changes
2-Week Turnaround
Simply Sunset Session
Up to a 1-hour session
Full Gallery of Digital Images
Style Guide
Outfit Changes
2-Week Turnaround
---
Questions? Ready to Book?
Reach out today.
---